Are you ready to build your luxury new home?
Buying residential land to build on is an exciting adventure, but building a custom home comes with pitfalls and traps to avoid.
Knowing how to sidestep these design pitfalls will save you tens of thousands of dollars as well as nasty budget blowouts and construction delays (not to mention your fair share of headaches and sleepless nights).
Here are the 7 deadly sins of designing a luxury home to avoid at all costs.
Not researching site constraints
You probably didn't enjoy homework at school, but homework is vital when it comes to buying Melbourne residential land for your luxury home.
Not all land is created equal, with both physical characteristics and legal frameworks governing how you can and can't design a home.
Soil conditions are an important site constraint to research prior to design, with the wrong type of soil causing problems for certain slab and footing construction. This can add tens of thousands of dollars to construction costs as well as lengthy delays.
Site constraints also extend to zoning classifications which limit how your land can be used. Zoning requirements may limit the height of your home, as well as the location of your property and overall size. If you've got a dream design in mind, it's worthwhile to make sure the land can turn that dream into a reality.
Purchasing the wrong block
Never put your plan before the land.
A mistake many people make is to settle on their luxury home design then purchase a block of land to build on. If your design doesn't fit your land, you could be looking at costly changes or a complete redesign. Purchasing the correct block of land means you know exactly how to position your luxury home's size and orientation. The right block of land will allow for a seamless construction process without any hidden frustrations.
Choosing the wrong block of land is a budget blowout in waiting. Avoid the headache and choose a block that is tailored to your luxury design.
Copying someone else's style
Your home is an expression of yourself. It's where you go to unwind, recharge and spend time with loved ones. Why would you want to turn such a special place into a carbon copy of someone else's home?
Taking inspiration from neighbouring Mornington Peninsula homes or recent design trends is a great way to bring your luxury home vision to life. But avoid keeping up with the Joneses just for the sake of it. Not only is it easy to see when a home doesn't reflect someone's personal taste – but you'll regret not taking the time to put your unique spin on your new luxury living space.
Being too trend-driven
There's nothing wrong with adding a few splashes of the latest trends, but if you design a home solely around temporary fads you risk waking up in a house that's quickly gone out of style. A trendy colour in 2020 might not age so well when your entire home is painted bubblegum pink.
Trends come and go but timeless design choices ensure your home looks modern and sleek year after year. If you've got your heart set on some of the latest design trends, consider incorporating them in micro-doses, for example as art or throw pillows.
Let design trends be small and subtle, while your wider design remains timeless.
Ignoring your designer's advice
No matter what industry you're in, it's safe to say you know more than the average Joe. The same goes for home design.
Even if you've got your heart set on certain features or functionality, it's wise to listen to your designer. You're paying for their expertise so if your designer expresses concern over a feature, try and remove the emotion and see where their concern comes from.
The beauty of the design phase is it's always evolving. So if one of your features has to hit the cutting room floor, work with your designer to bring similar flair in a way that suits the design and your budget.
If you go out on your own, you could end up regretting it down the track.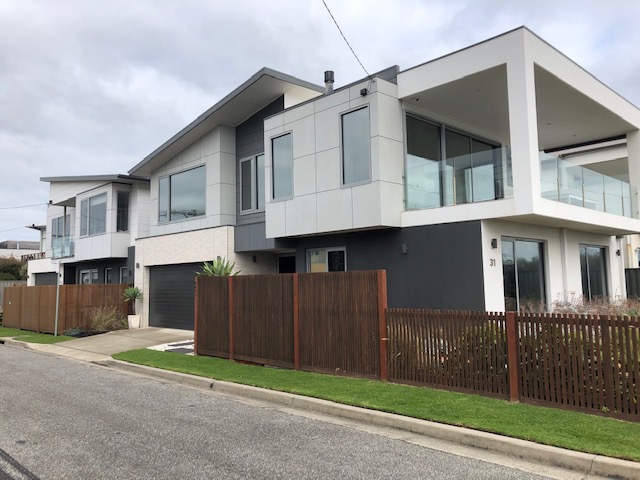 Signing up with a builder before designs are complete
Building a custom home offers flexibility and endless customisation. You'll need a builder to turn your luxury design into a million dollar home, but avoid signing up with a building company before your designs are complete.
Building a million dollar home can feel like a complex process, so it makes sense on the surface to lock in a builder then deliver a design to them.
When you limit yourself to one builder you remove all leverage. With a completed design, but no builder, you can tender out your project for the best price. With various building companies competing for your business, you could end up saving big.
Choosing the wrong designer
Finding the right designer is more complicated than searching for 'Best Luxury Home Designers' on Google.
Designing a luxury home is a personal process. If your designer isn't on the same page as you there's no guarantee the finished product will feel like home. At Lewis Building Design we interpret your vision into a practical design that adheres to all codes and standards – without losing the essence of 'you'.
Here are a few simple ways to choose the right luxury home designer:
– Meet your designer in person (free consultations are a green flag)
– Check previous projects
– Find designers who specialise in modern designs
– Trust your gut
By doing your due diligence you'll feel confident before any money changes hands.
Are you ready to buy residential land to build on?
Building a luxury home is an exciting adventure, but not without its challenges.
Whether as an investment property or your family home, the design choices you make should reflect your unique style and your lifestyle goals.
By avoiding the 7 deadly sins of luxury home design you can avoid construction delays and budget blowouts down the line.
The devil is in the detail, so do your homework, focus on your own style and listen to your designer's advice to ensure your dream house feels like home.